Jolt Winners are Out! For the Last Time!!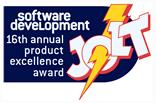 SDMagazine has announced The 16th Annual Jolt Product Excellence Award Winners

Some picks from the Winners:
A related (sad, but not surprising - according to some!) news is the death of SDMagazine. So this may be the last Jolt awards as we know it. Let's hope not.